Heat Up Your Winter with a Hot New Hair Color
January 15 2022
If you're already starting to feel the dreariness of our cold Staten Island winter, maybe you need a pick-me-up with amazing new hair color by one of our Meraki color experts. Although you may believe that winter isn't the best time for hair color, it's actually a great time! Not only does it boost your mood, but it also makes you feel better about yourself at a time where you may be limited by the cold season. With our full line of professional haircare products, you will have everything you need to keep your vibrant hair color long-lasting, nourished, and hydrated for the entire season.

Our stylists are seeing a lot of fabulous hair color and highlighting ideas as we begin the new year.

Chocolate Cherry. If you're a natural brunette, deepen your base with a chocolate or mocha shade, then let your Meraki stylist bring out the beauty in your hair with shades of copper and deep red for a rich, warm style that will warm up that winter chill. You can go for soft highlights, babylights to frame the face or bolder highlights all through the hair.

Mocha Caramel Balayage. If you love your natural brunette but want to liven it up a little this winter, give a solid mocha base new life with caramel and toffee highlights that are hand-painted to perfection.

Red Wine Delight. This bold rich color starts with a rich, chocolate base and uses deep red wine highlights naturally placed throughout the hair to give the perfect blend of deep red wine with rich chocolate brown to make it look like you were born with it.

Pumpkin Spice Blonde. Love your pumpkin spice? Love it on your hair! This distinctive blend of blonde and red tones will give your hair a beautiful multi-dimensional style with shades of copper, rose-gold, and strawberry blonde combined for a one-of-a-kind look.

Glacial Blonde. This Icy cool shade is closely related to its platinum relative but is better suited for the winter months. You can customize the color to go as icy blonde as you dare, stick to strands around the face, or add icy blonde highlights to a darker base.

Silvery Ash Balayage. No matter your natural base, adding some silvery ash blonde highlights will give you a cool, shimmering look as it's reflected in the sun and as a constant reminder that spring is on the way.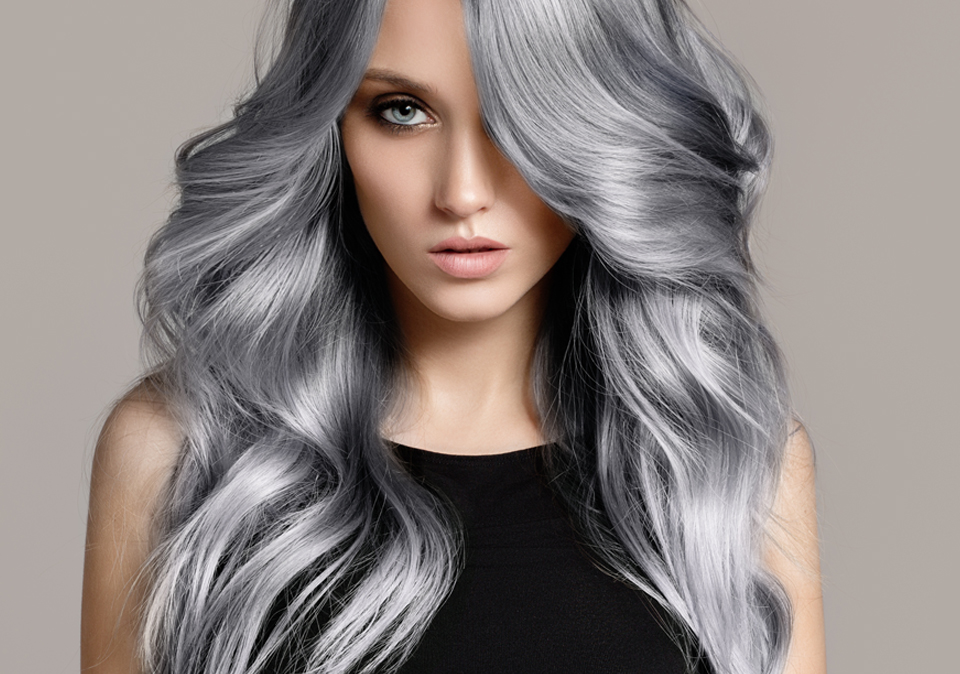 Silvery Steel Ombre. Staying with the cool ash tone, this contrast of a jet-black base at the roots in an ombre effect leading down to silvery steel-gray tips will be the perfect pop of color this winter. We love the ombre look because not only is it an impressive highlighting technique from dark to light, but it also looks different whether you wear it up or down, giving you some great choices in hairstyles.

High Dimension Balayage. If you love the balayage technique but want to go for bolder colors, we're seeing hand-painted highlights that challenge the dreary landscape with high-contrast colors to add depth and dimension to your hair. Whether it's extremely dark and light or a balayage of vivid, bold colors – it's what's trending this season to get creative and have some fun!

No matter what hair color you choose, your Meraki hair colorist will be sure to recommend the best hair care products that we carry to ensure that your hair color is as vibrant and shiny as the day you walk out of the salon.

Come into Meraki Hair & Makeup Studio and let us give you the perfect hair color, blowout, dry style, or updo to show off your hair this winter. You can find us at 1281 Arthur Kill Road in Staten Island or call 718.966.6601 to book an appointment. Prefer to instantly schedule an appointment yourself? Try our Meraki Hair & Makeup Studio mobile app, available for a free download on iTunes or Google Play.