Embracing the Cozy Vibes: 2023 Fall Makeup Trends
September 7 2023
The crisp autumn air is upon us, which means it's time to swap out those summer-time makeup hues for warm, cozy fall shades. In 2023, we're seeing an exciting array of makeup trends that are perfect for embracing the season's spirit. Whether you're a makeup novice or a seasoned beauty enthusiast, you'll find something to fall in love with among these popular fall makeup looks and trends.
Pumpkin Spice Latte Look
When you think of fall, what comes to mind? Pumpkin spice lattes, of course! They pop up everywhere come Autumn, and they have inspired a makeup trend that's as delicious as it sounds. Pumpkin spice makeup combines warm, earthy tones with a hint of shimmer to create a look that's both cozy and enchanting. This look will typically feature shades of burnt orange, rusty brown, and deep gold. The gold offers an eye-catching shimmer- and you can finish the look off with warm nude lipstick to compliment the earthy tones. 
Fall Grunge
Grunge never truly goes out of style, but it's making a strong comeback this fall. This edgy and rebellious makeup trend is all about dark, smudged eyeliner, dramatic shadows, and a devil-may-care attitude. This year, softer grunge looks are what we aspire for with softly smudged liner, rich black shades, and deeper colors of green, red, and blue. The recommended lipstick looks for a typical grunge style are matte burgundy or plum, but even going with a shade of brown will go along with current trends. 
Abstract Blue "Pops of Color" 
Adding a pop of color to your fall makeup can be a fun way to stand out. In 2023, blue is the "it" color for this purpose. This trend involves using shades of blue to create a captivating and unexpected focal point in your eyes.
To achieve this look, start with a neutral eyeshadow base and then add a vibrant blue shade to the outer corners of your eyelids, blending it slightly into the crease. You can also use blue eyeliner on your lower lash line for an extra pop. Keep the rest of your makeup understated with nude lips and soft blush, allowing the blue to steal the show.
Less Is More
For those who prefer a more understated and natural look, minimal makeup is the way to go this fall. The minimal trend emphasizes simplicity and enhances your natural beauty without overwhelming your face with layers of products. Looks like this is meant to focus on lightweight foundation or tinted moisturizer, neutral eyeshadow at most, and opt for mascara to lengthen your lashes. Finish with a sheer lip balm or gloss, and you're ready to embrace the season with a fresh-faced glow.
Everything Pink
Pink isn't just for spring and summer – it can be a delightful choice for your fall makeup as well. This trend incorporates various shades of pink, from soft pastels to vibrant fuchsias, to create a rosy and romantic look. Deep pink blush, a pastel lipstick, pink-tinged lipgloss. Just make sure to keep it cohesive and make it match!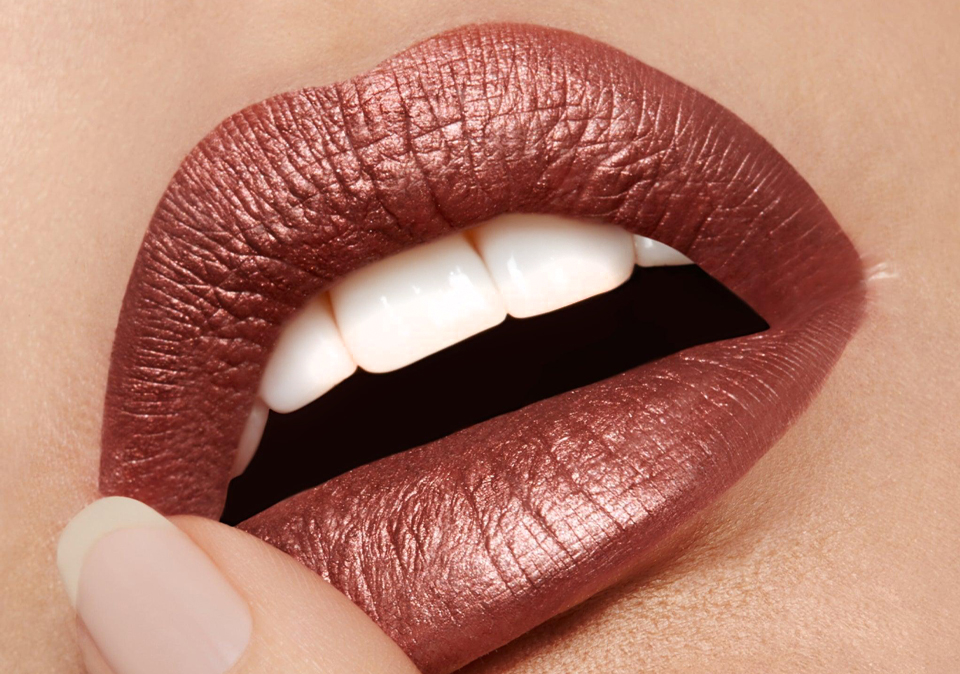 Earthy Brown Lipsticks
Nothing says fall like a rich, warm brown lipstick. This classic trend has been a fall staple for years and continues to be a go-to choice for many makeup enthusiasts. It pairs wonderfully as well with other fall trends, on top of the coffee-inspired makeup trends popular this year. From deep chocolate to warm mocha- you can pair it with neutral eyeshadows and a subtle blush to keep the focus on your lips. Brown lipstick exudes sophistication and pairs beautifully with cozy fall sweaters and scarves.
Pastel Eye Makeup
While fall is typically associated with warm, earthy tones, pastels can add a surprising twist to your autumn makeup routine. Pastel eye makeup in shades like lilac, mint, sunshine yellow, and baby blue can bring a breath of fresh air to your look. Amid muted shades and hues, you can bring life and Spring back to fall with your choice of pastels. 
Rich Wine Lipstick
If brown isn't your color, then the deep red lipstick trend might be your perfect fall match. This bold and timeless look adds a touch of glamor to your autumn wardrobe. A swipe of red lipstick is all you need to make a stunning statement this fall.
Fall is the perfect time to experiment with new makeup looks and embrace the cozy, welcoming vibes of the season. Whether you opt for the warmth of pumpkin spice, the edge of grunge, a pop of blue, or the simplicity of minimal makeup, there's a 2023 fall makeup trend that suits your style. Don't be afraid to play with colors, textures, and finishes to create your own unique fall beauty routine. 
Meraki Hair & Makeup Studio can help give you your best look of the year! Schedule an appointment today by calling us at 718.966.6601. Look for our location too at 1281 Arthur Kill Road in Staten Island. You can also schedule appointments by using the Meraki Hair & Makeup Studio mobile app, free to download on iTunes and Google Play.