Make the Holidays Merry with Stunning Hairstyles & Dazzling Makeup
December 1 2021
If you're like many of us, you're ready to get thru this year, celebrate the holidays and move on to a new year. But first, let's slow down, savor the holidays with friends and family, and enjoy all the festivities, food & spirits, and laughs that celebrating the holidays can bring. With all the holiday parties, you'll have plenty of chances to dress up, put on some eye-catching makeup, and style your hair with some of the best holiday hairstyles.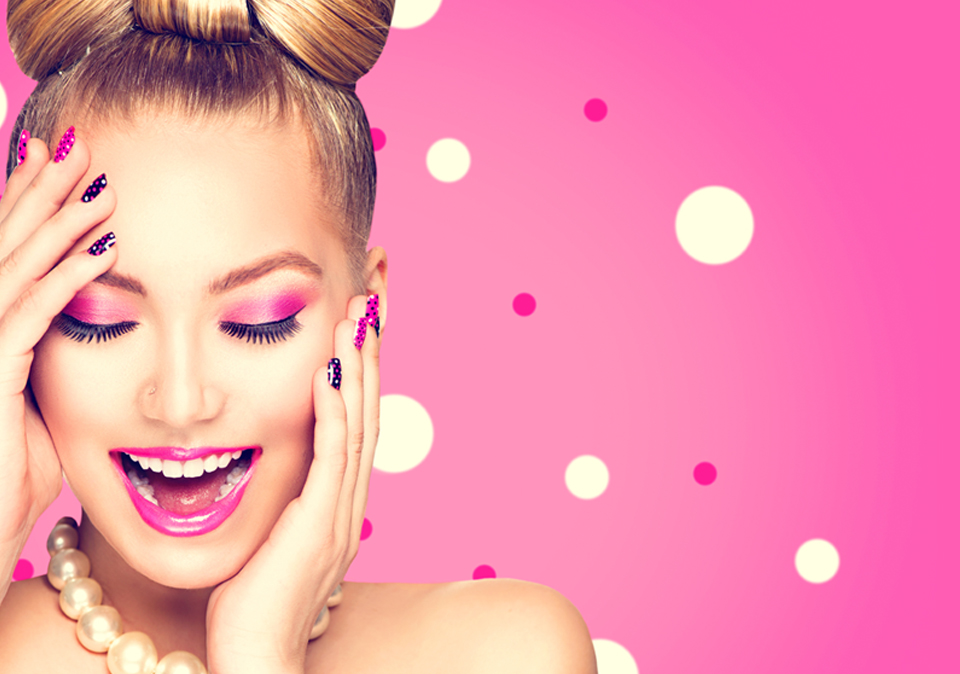 Holiday Makeup Trends
Emerald eyes. Winter is the perfect time to explore deeper tones like emerald, amethyst, and sapphire eye shadow. Keep the rest of your makeup neutral and pair it with a stunning holiday ensemble to make the whole look pop!
Smoky eyes. Start with the classic browns or greys then really show off the holiday spirit by adding a metallic tone or even a dab of glitter on the lids. Use a winged-out black liner and a little sparkle to really make your eyes be the center of attention. 
Berry lips. Red lips are always a winner for a festive, timeless look. However, try a modern twist this year with berry shades. This richer red tone has a wintry vibe that goes with most outfits. To liven up your lips, choose a sheeny finish instead of a classic matte to make your lips appear fuller. 
Fabulous Holiday Hairstyles
Smooth waves. Taking advantage of relaxed, smooth, wavy locks this season is a great look for day to night. When you come into Meraki to achieve perfect waves, you can determine just how formal of a look you want. If you're attending a formal gala, look like a fairytale princess with long flowing waves, a half updo, or a stunning updo with wavy tendrils. Let your stylist give you a wavy hairstyle that is all your own. 
Fancy ponytail. Sure, ponytails are convenient to throw your hair up and out of your face, but they're also a great look for any festive event. Your Meraki stylist can give you a slicked-back pony, a ponytail with long curls, braided on the sides, a loose pony – you bring us a pic of your outfit and we can design a ponytail that will complement your outfit. One of our favorites is adding bling such as pearls or jewels to your ponytail for a refined, polished look. 
Vintage hair. Vintage hair such as curly bobs, rolled curls, or sophisticated updo's all reminiscent of the roaring 20s is still trending hard. No matter what the occasion, explore a vintage hairstyle, add berry lips, and you're ready to dance all night long. 
Side-swept hair. Whether it's just the bangs or the whole hairstyle, the side-swept trend is still going strong especially with the elite socialites. The hair is skillfully swept to the side, making your face appear slimmer by accentuating the jawline. There are so many options for this style, have some fun and try a loose braid, curls swept to one side, or a half updo. Have cute holiday earrings? This is the perfect hairstyle to show them off! 
Lovely updos. There are so many updos that you'll love for the season. The French twist, a messy bun, the chignon to name just a few. We love them all and you can dress them up for an elegant gown, leave some loose tendrils for a softer look, or go chic with a 'messy' look that looks great. 
Beautiful braids. Many types of braids make wonderful holiday hairstyles – fishtail, French, Dutch, reverse. You can style them tight or messy loose with soft tendrils on the sides. A favorite is boho braids for their carefree vibe which can be perfect for anything from a casual dinner party to a holiday office party to a trendy gala.
Festive accessories. Hair accessories have been a hot ticket item all year long and the holiday season is no exception. Add the holiday spirit and give your whole attire a boost with embellishments such as diamond hairpins, jeweled hair clips, headbands with pearls, hair ribbons, scarfs, and this fall's favorite – a blingy barrette. 
Come into Meraki Hair & Makeup Studio and let us give you a holiday blowout, dry style, or updo to make all your holiday occasions picture perfect. You can find us at 1281 Arthur Kill Road in Staten Island or call 718.966.6601 to book an appointment. Prefer to instantly schedule an appointment yourself? Try our Meraki Hair & Makeup Studio mobile app, available for a free download on iTunes or Google Play.