Trendy Men's 2023 Haircuts and Colors: Express Your Style with Meraki
August 6 2023
When it comes to expressing personal style, men are no longer confined to traditional haircuts and natural hair colors. The year 2023 brings a wave of exciting trends in men's haircuts and colors, allowing individuals to make bold statements and embrace their unique identities. Meraki, a leading hair salon renowned for its expertise and creativity, is at the forefront of this hair revolution. In this blog, we'll explore some of the hottest men's haircuts and colors for 2023, all available at Meraki.
The Textured Crop
For those seeking a modern and versatile haircut, the textured crop is a top choice. This style involves shorter sides with a textured, layered top, creating a dynamic and edgy look. Pair it with a platinum blonde color for a striking contrast or opt for a more subtle honey-brown shade to exude sophistication. To ensure a nice textured look, you can use our Ecru Dry Texture Spray.
The Undercut with Fringe
The undercut has been a popular men's haircut for some time, and in 2023, it gets a fresh twist with the addition of fringe. This style features shaved or faded sides and a longer top with a textured fringe falling over the forehead. To accentuate this look, consider adding a touch of vibrant color like icy blue or deep burgundy for an attention-grabbing effect.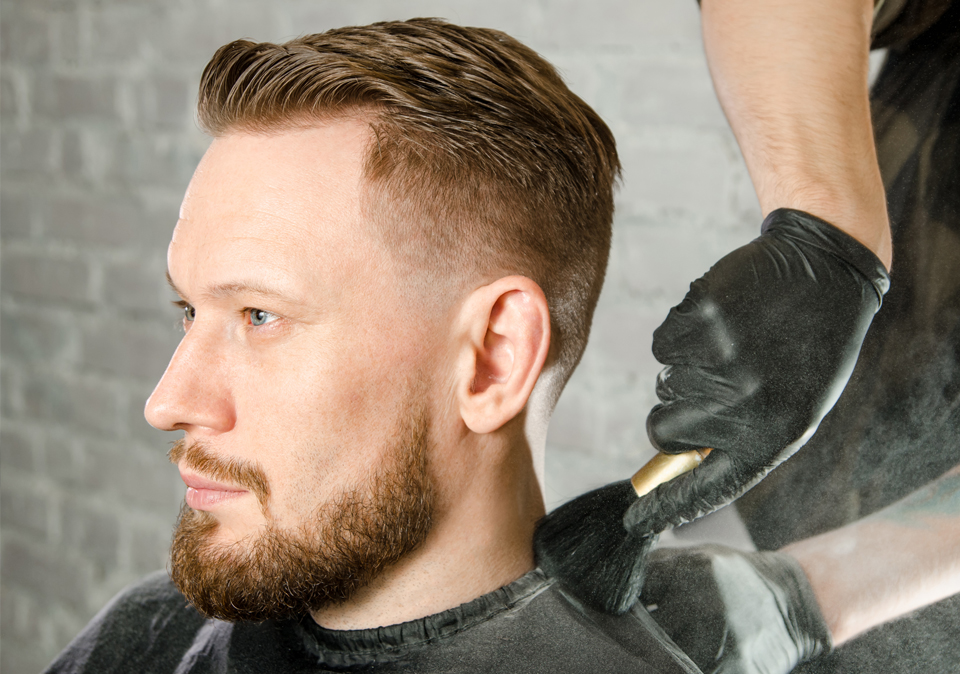 The Modern Pompadour
The pompadour has remained a classic choice, but in 2023, it's all about giving it a contemporary makeover. The modern pompadour combines a high-volume top with shorter sides, creating a refined yet bold appearance. For a trendy twist, experiment with unconventional colors such as ash gray or silver to add an air of sophistication to this timeless cut.
The Mullet Revival
The mullet once considered a thing of the past, is making a strong comeback in 2023. This audacious haircut features shorter hair on the front and sides, gradually transitioning into longer lengths at the back. Embrace the spirit of this revival by opting for a vibrant color gradient, incorporating shades like teal for a truly eye-catching look.
The Taper Fade with Design
The taper fade is a versatile haircut that suits a range of hair textures and lengths. In 2023, it received an artistic upgrade with intricate designs etched into the faded sections. From geometric patterns to nature-inspired motifs, these personalized designs add an extra touch of flair and individuality. Complement this style with highlights in electric blue or fiery red to enhance the visual impact.
The Buzzed Elegance
For those who prefer a minimalist yet impactful look, the buzzed elegance is a perfect choice. This haircut involves a closely cropped style all around the head, creating a clean and sophisticated appearance. Enhance this minimalist style with a bold color statement, like a deep onyx black or a sleek gunmetal gray, to radiate confidence and poise.
The Disconnected Quiff
In 2023, the disconnected quiff takes center stage with its playful yet refined charm. Featuring shorter sides and a voluminous top, this haircut combines casual elegance with a touch of rebellion. Elevate the appeal of the disconnected quiff by adding highlights in shades of caramel or a subtle pastel hue for a harmonious fusion of classic and contemporary.
As we step into 2023, men's haircuts and colors have become bolder, more expressive, and truly individualistic. Meraki, with its expertise and commitment to innovation, is the ideal destination for men seeking the latest trends and a unique hair experience. Whether you opt for the textured crop, the undercut with fringe, the modern pompadour, the mullet revival, the taper fade with design, the buzzed elegance, or the disconnected quiff, Meraki's skilled stylists will ensure you leave the salon with a confident and cutting-edge look.
Remember, your hair is an extension of your style. So, why not embrace the opportunity to make a statement with a trendy haircut and color? Step into the world of Meraki and let your hair speak volumes about your individuality in 2023.
For a dapper style and great color, you can count on Meraki Hair & Makeup Studio. Call us now at 718.966.6601 to book an appointment- or you can try our Meraki Hair & Makeup Studio mobile app, found available for free on iTunes or Google Play. We will see you soon at 1281 Arthur Kill Road in Staten Island!